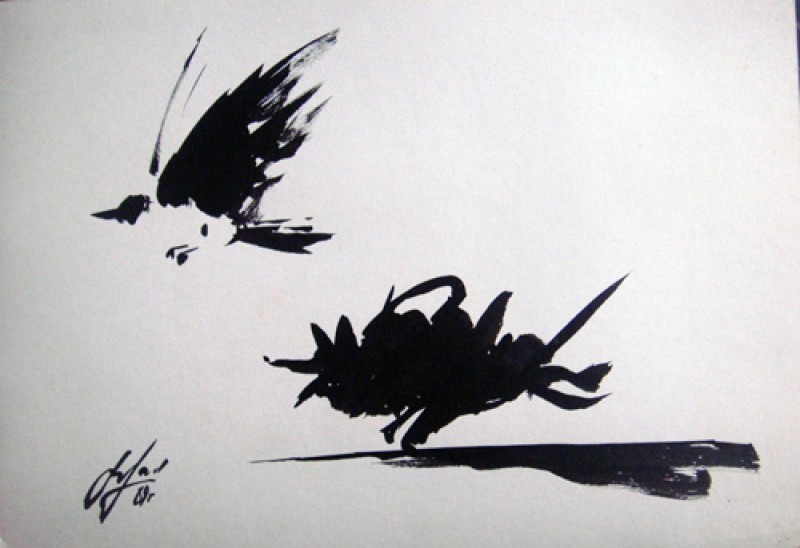 THE MAIN CHARACTERISTICS OF THIS PERIOD :
The drawings in this series are made ​​in a very short period of time in the manner "Alla Рrima "- "direct painting".
       Wet-on-wet, or « alla prima » (Italian, meaning at first attempt), is a painting technique, used mostly in oil painting, in which layers of wet paint are applied to previous layers of wet paint. This technique requires a fast way of working, because the work has to be finished before the first layers have dried. It may also be referred to as "direct paintingé or the French term au premier coup (at first stroke).
      The main objective of this series is the relationship between "white" and "black" in the specified format,
      The primary means of expression of this series is "spot" – "White on Black" or "Black on White".
      To compound the problem and obtain a more brilliant in the exercise of this series was a big wide paint brush used.
Technique: Mixed media :  Indian ink.
Supports : paper.
Dimensions of works: dimensions variable.
                                                                                                                 THE DRAWINGS OF THIS PERIOD ARE NOT AVALABLE.
                                                                                                                 TO SEE ALL OF THE WORKS OF THIS PERIODE, PLEASE CONTACT ARTIST PAINTER  →  CONTACT.
Click on image to enlarge.