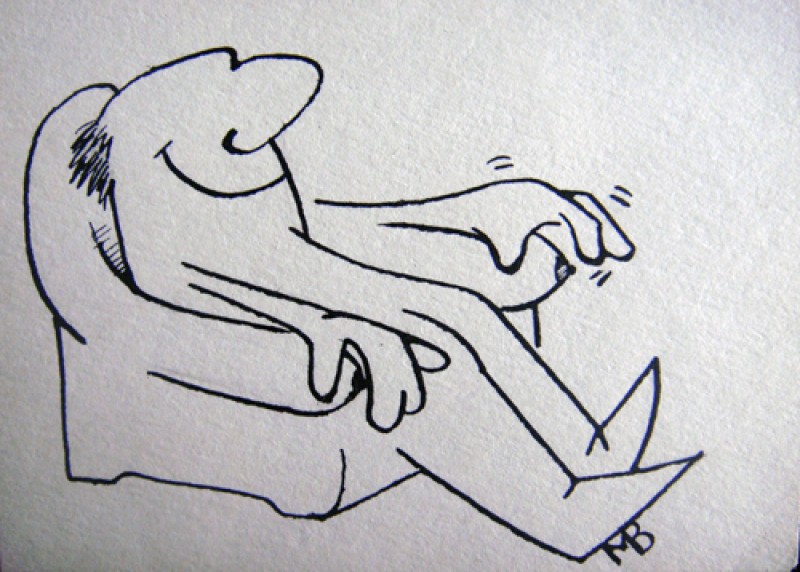 THE MAIN CHARACTERISTICS OF THIS PERIOD :
           Between 1986 and 1990 I worked as a cartoonist in several local newspapers in his hometown and in the Poltava region. (U.R.S.S.)  In this section you will find a few examples of cartoons made ​​by me at the time.
           Work cartoonist, during the "Socialism Developed," for "the official press" was simply impossible. At the time, there are two types of cartoonists: some earn well and were printed on the first page of a newspaper or magazine – and it was necessary for her to be a member of the "Communist Party of the Soviet Union" and draw cartoons against "world imperialism", against the "West", against "capitalism", against the United States. And those who would be free and drew what he wanted and so was the last page of a newspaper or magazine. To be free at the time I chose the second option.
           And I had the good fortune, at the time, to meet with chief editors of newspapers and magazines who loved humor. The majority of my caricatures – is signed "No words," because I think the pencil is already a means of expression sufficient to express the idea.
           A "caricature" is a portrait that exaggerates or distorts the essence of a person, animal or object to create an easily identifiable visual likeness. In literature, a "caricature" is a description of a person using exaggeration of some characteristics and oversimplification of others.
                                                                                                           THE CARTOONS OF THIS PERIOD ARE NOT AVAILABLE.
                                                                                                           TO SEE ALL OF THE WORKS OF THIS PERIOD, PLEASE CONTACT ARTIST  →  CONTACT.
Click on image to enlarge.