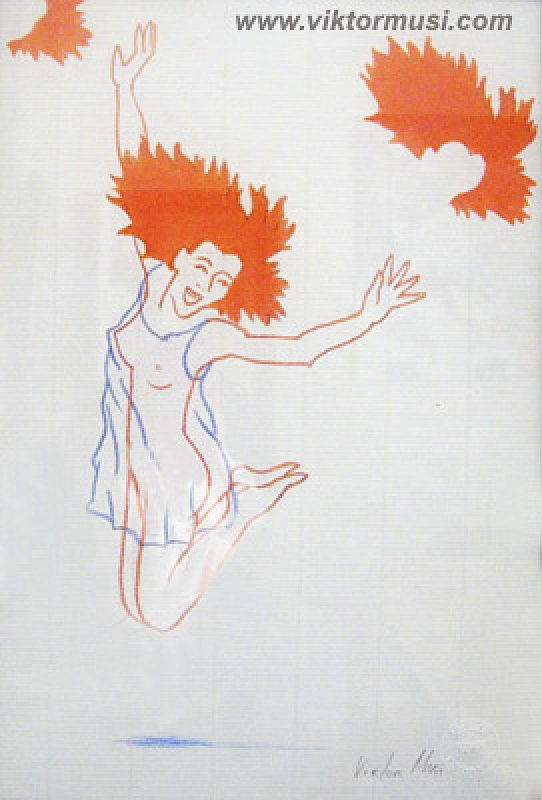 THE MAIN CHARACTERISTICS OF THIS PERIOD :
     The principal means of expression this series of drawings – "silhouette", realized one single line – thin and color.
     It is often necessary to perform up to 10 preliminary drawings for the fact that the line was able to communicate clearly about and the nature of the figure.
     The fine line, simplified to a minimum, in most images, prolonged in detail its clear, carefully drawn (all classical laws of "light and shadows").This detail is often intensely black spot and is the dominant feature of the composition.
     Main subject this series of drawings is dynamic feminine nudes, mixed with animal and vegetable world.
     The drawings are done on special paper "Ingres" – with great subtlety and treatment, what makes this series of drawings richer and gives them a special expressiveness.
Technique:  Mixed media – colored pencils, indian ink.
Supports : paper "Ingres"
Dimensions of works: from 10 x 10 up to 40 x 60.
Signed. Sec stamp studio. Title and "Stamp studio" on the back.
Each drawing is accompanied by a "Certificate of Authenticity". A "Certificate of Authenticity" is a document required for the attribution of a work to an artist. It may include the work's title, the date of its creation, the name of the artist and different elements to the artistic discipline (medium, size, number of copies made​​, materials, photo of the work, etc.)
                                                                                                                  TO SEE ALL OF THE WORKS OF THIS PERIOD, PLEASE CONTACT ARTISTE PAINTER  →  CONTACT.
Click on image to enlarge.