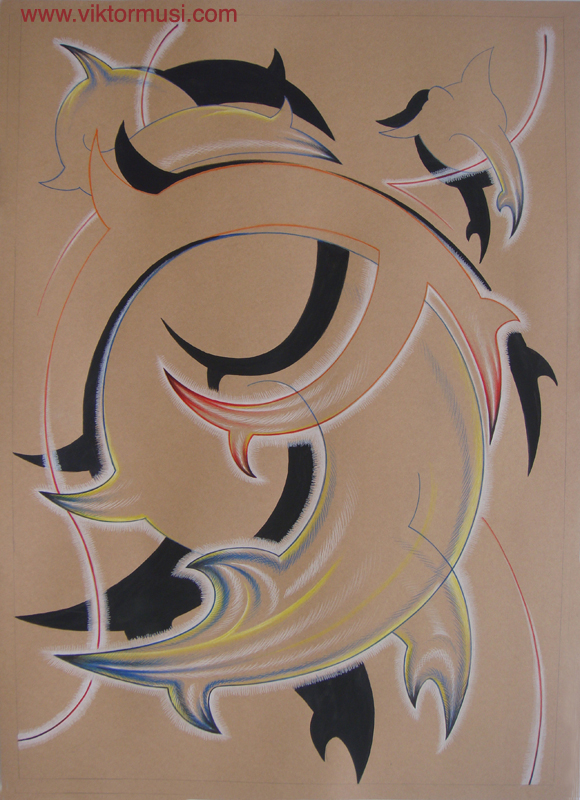 THE MAIN CHARACTERISTICS OF THIS PERIOD :
         An "arrow": any object elongated and pointed.
        Main subject this series (a series of 60 drawings)  is a "movement" for the expression which I used one of the simplest character – "arrow" – which has universal functions and has neither the language nor the origin ethnic .The main functions of the symbol "arrow" is an indication of the direction of motion or a statement of the particular place for which we must pay attention.But in each drawing in this series are many arrows: thin and thick, colored and black and white, bulky, and made a thin line, static and dynamic – they move randomly to each other in a format specified by me, sometimes intersecting and colliding and sometimes completely separated from each other, forming a continuous, powerful, strong and vibrant movement that makes the viewer stop for a long time before the drawing.
Technique: mixed media: colored pencils and acrylic. 
Supports :  cardboard  "kraft".
Dimensions of works:  140 x 100 , 70 x 100.
Signed. Sec stamp studio.
Each drawing is accompanied by a "Certificate of Authenticity". A "Certificate of Authenticity" is a document required for the attribution of a work to an artist. It may include the work's title, the date of its creation, the name of the artist and different elements to the artistic discipline (medium, size, number of copies made​​, materials, photo of the work, etc. .).
                                                                TO SEE ALL OF THE WORKS OF THIS PERIODE, PLEASE CONTACT ARTIST PAINTER  →  CONTACT.
Click on image to enlarge.