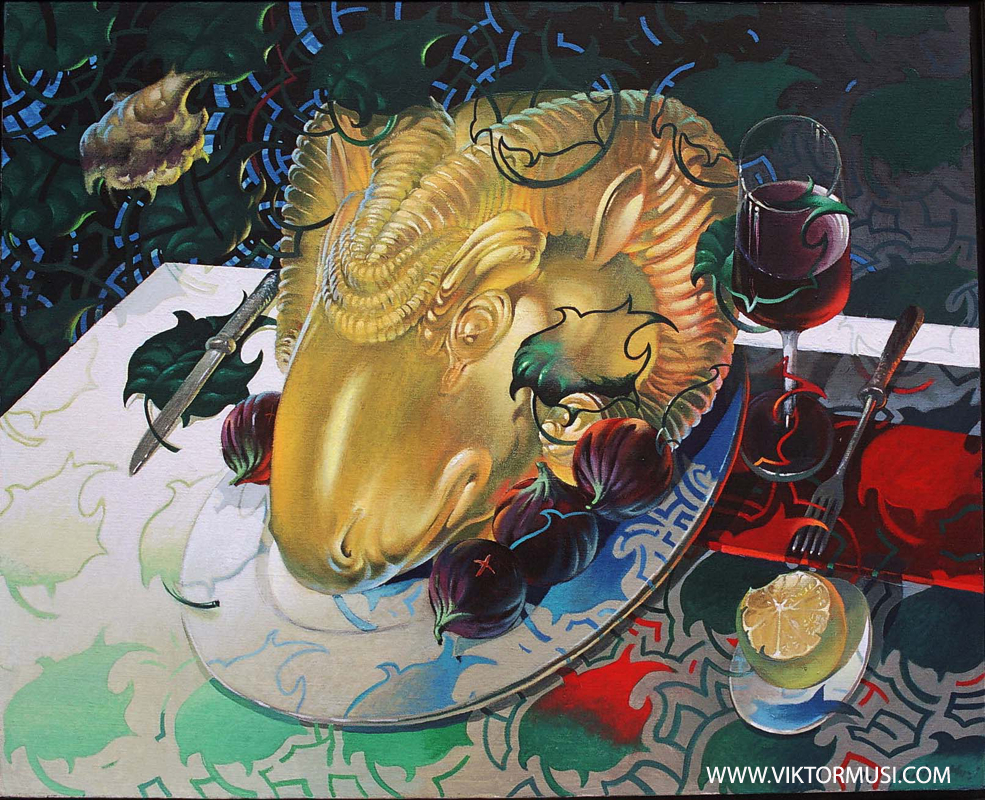 THE MAIN CHARACTERISTICS OF THIS PERIOD :
          At the end of the year 1997 – 1998, I developed a formal language from patterns various and repetitive – a mixture of empty space with a lot of material, fine lines – pure and curved, pieces images with the effect of two-dimensionality- to pieces images 3D. Series of paintings "Onirisme" was created by me during the period 1999 to 2007. The main subject of this series of paintings are the still lifes full of nature and fantasy,  figures solitary immersed in his inner world. These are the characters I met by chance and I was impressed by their posture, their gestures, their movements. Each painting this period invokes a stained-glass window flooded with sunlight, a maze of intertwined lines and shapes where sometimes a silhouette appears, or a portrait, leaves, flowers, or pieces of juicy fruit.
           "Viktor Musi has learnt the lesson perfectly, and rejecting a purely figurative representation faithful to reality, he used drawing and color masterly to produce most sophisticated, recherché  graphics in a  quest for unusual propositions and compositions. The Magazine "ARTCLUB News". N°11. March 2004. Paris. France.
 Technique: oil painting
Supports: 100% linen canvas,
Dimensions of works: from 40 x 40  to 150  x 150.
Signed. Title and "Stamp studio" on the back of canvas.
Each painting as accompanied by a "Certificate of Authenticity".   A "Certificate of Authenticity"  is a document required for the attribution of a work to an artist. It may include the work's title, the date of its creation, the name of the artist and different elements to the artistic discipline (medium, size, number of copies made​​, materials, photo of the work, etc. .).
TO SEE ALL OF THE WORKS OF THIS PERIOD, PLEASE CONTACT ARTIST PAINTER 
→
CONTACT.
  Click on image to enlarge.