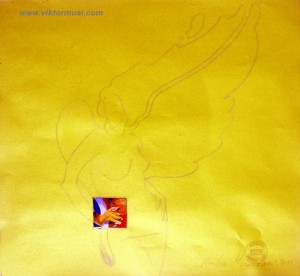 THE MAIN CHARACTERISTICS OF THIS PERIOD :
LIMITED EDITION. 25 ORIGINAL DRAWINGS.
Technique: Mixed media – colored pencils, Indian ink, gouache.
Supports : paper "Gold"
Dimensions of works:  20 x 20. Signed. Sec stamp studio. Title and "Stamp studio" on the back.
Each dessin is accompanied by a "Certificate of Authenticity". A "Certificate of Authenticity" is a document required for the attribution of a work to an artist. It may include the work's title, the date of its creation, the name of the artist and different elements to the artistic discipline (medium, size, number of copies made​​, materials, photo of the work, etc. .).
                                                                                    TO SEE ALL OF THE WORKS OF THIS PERIOD, PLEASE CONTACT ARTISTE  PAINTER  →  CONTACT.